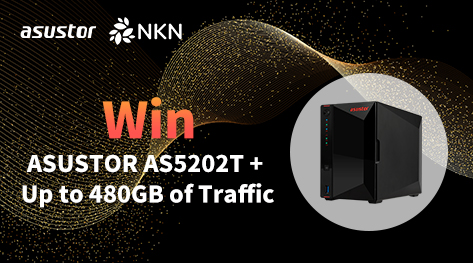 Prizes
Top Prize(1):One ASUSTOR NAS(AS5202T,valued at $299 )+ 480G nConnect Traffic($39.99)
Second Prize(1):480G nConnect Traffic($39.99)
Third Prize (10):nConnect 40G Traffic($3.99)
Date:Now -10/Jul/2022(UTC -8)
10/Jul/2022 23:59pm(UTC -8) Retweet or Tweet Deadline
11/Jul/2022(UTC -8) 1st round lucky draw
13/Jul/2022(UTC-8) Final call to fill in the form if you are shortlisted
14/Jul/2022 18:00pm(UTC -8) Prize announcement
Rule
Retweet the following post with hashtag before 10/Jul/2022 23:59pm(UTC -8) to win an ASUSTOR x nConnect Twitter campaign reward!

A shortlist of winners will be picked up through 1st round of lucky draw.

Our official Twitter will DM those who are shortlisted by 11/Jul/2022(UTC -8).

Please keep it to yourself and do not share the link to others if you're shortlisted in our prize pool. Please make sure to fill in the form with your correct Twitter ID and information. One Twitter ID is only allowed to submit one form with one address, any duplicated addresses or wrong information will be treated as invalid.

All right reserved to ASUSTOR and NKN.

Employees of ASUSTOR or NKN, as well as their family members, are not allowed to participate in the lucky draw.