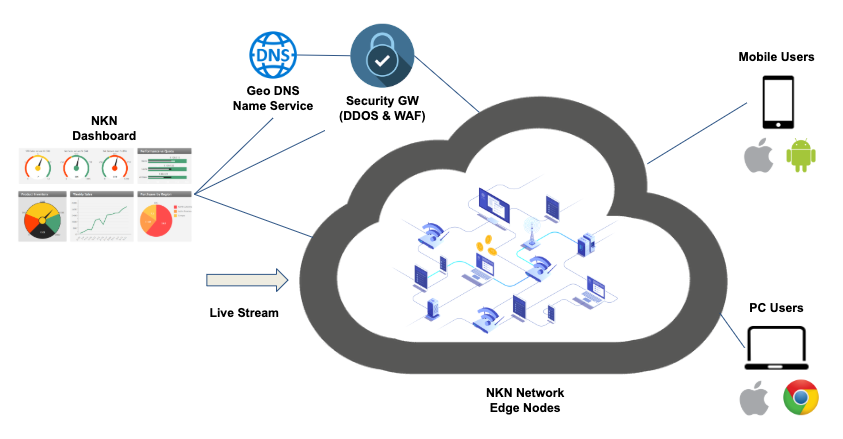 What is nCDN?
nCDN: New Kind of Content Delivery Network, is the CDN of choice for reliable, low latency service at scale without breaking the bank. Our service combines the reliability of traditional data center hosted solutions with the low latency capabilities in P2P CDN architectures. The result is a hybrid model that features:
Multi-CDN interoperability: complimentary to any traditional CDN solution
Low latency: decentralized architecture brings the data closer to your customer
Manage $cost/GB: manage cost at scale
What are the advantages?
Since nCDN is based on NKN's decentralized network architecture and token economy, it offers a unique set of advantages over traditional CDN offerings including:
Global Coverage: over 20,000 global servers today and growing
Elastic Capacity: leverage unused capacity since NKN servers are multi-functional, that can scale up and down depending on demand. E.g. innovative pricing such as similar to Uber surge pricing, can further boost capacity during biggest event such as the Summer Olympics Games.
Low Latency: since each NKN CDN server is a Point of Presence (PoP), there is always a few PoP close to the clients with low latency.
Low cost: community run NKN CDN servers, whose fixed monthly costs have already been covered by NKN mining economy.
Advanced scheduling: can dynamically schedule based on many parameters: bandwidth, latency, server load, and price.
Reliability: compared to traditional CDN, NKN CDN network has no single point of failure and is fully distributed. in contrast to pure p2p that rely on clients watching content, our CDN servers typically run 24/7, have public IP address and good quality Internet connectivity, and do not need a human to watch content.
What applications can benefit from nCDN?
Our light-weight software that can be embedded into nearly any application or device makes nCDN the ideal solution for web content caching, short form video, live streaming and esports.
| | | | |
| --- | --- | --- | --- |
| Content Caching | Short Form Video | Live Streaming |     eSports |
Try nCDN today!
Contact us for a free trial and see how nCDN can help your application perform at scale.
About NKN:
NKN is the new kind of P2P network connectivity protocol & ecosystem powered by a novel public blockchain. We use economic incentives to motivate Internet users to share network connection and utilize unused bandwidth. NKN's open, efficient, and robust networking infrastructure enables application developers to build the decentralized Internet so everyone can enjoy secure, low cost, and universally accessible connectivity.
Contact:
Home: https://nkn.org/
Email: [email protected]
Telegram: https://t.me/nknorg
Twitter: https://twitter.com/NKN_ORG
Forum: https://forum.nkn.org
Medium: https://medium.com/nknetwork
Linkedin: https://www.linkedin.com/company/nknetwork/
Github: https://github.com/nknorg
Discord: https://discord.gg/yVCWmkC
YouTube: http://www.youtube.com/c/NKNORG