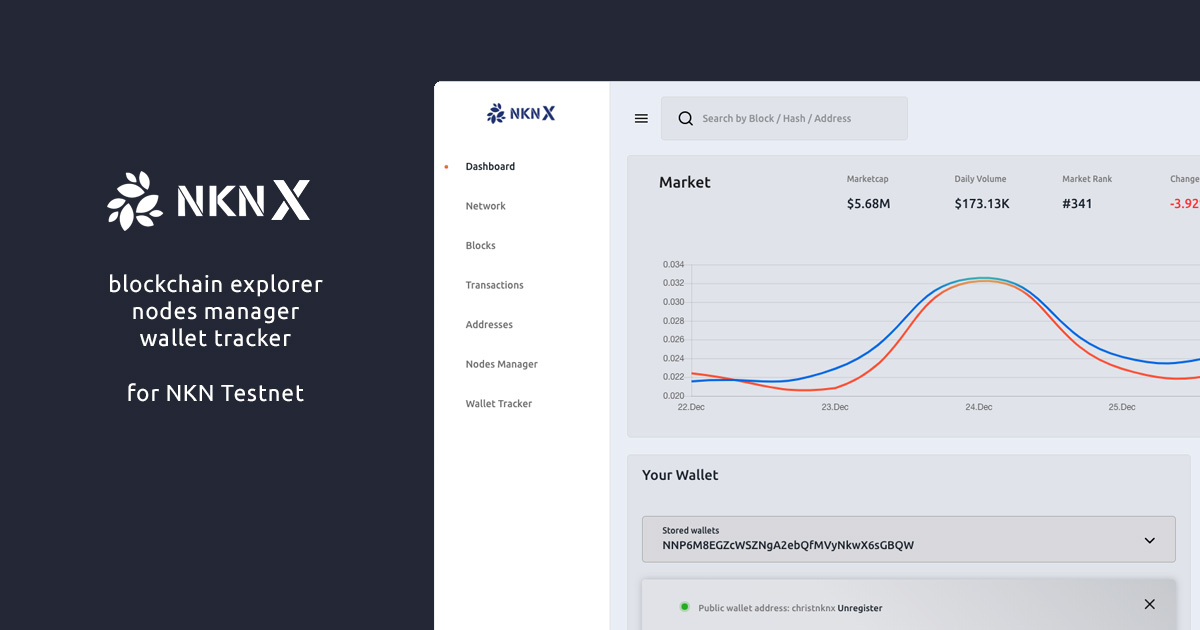 Dear community,
Welcome to the official NKNx - Thread!
NKNx is the first online platform for managing your nodes and wallets in one place. It is safe, easy to handle and is actively maintained by the community. Additionally NKNx is available in 10 different languages. But that's not all - take a look at our core features:
Blockchain explorer - view Block data, transactions, addresses and much more
Online wallet - view your balance, do transactions and register your wallet address in the NKN name service
Network statistics - watch every transaction and how it travels around the world, check out usage statistics and node providers
Register for MyNKNx and unleash the full potential of NKNx
*Node tracker - Add your nodes to NKNx and view it's status. Also check out our notification feature to get informed if your node is offline, stucked or outdated
Wallet tracker - See all your wallets in one place and watch how much tNKN is added to it daily
Want to have a look? Visit https://nknx.org/ and become a nknx-ian!
For those who are interested: The code of NKNx is free for all and available on github:
Also make sure and watch this thread for regular updates and news.
If you found a bug or have any problem with NKNx, fell free to contact us:
ChrisT - Discord: ChrisT | nknx#4459 / Telegram:

@ChrisT_nknx

lightmyfire - Discord: lightmyfire | nknx#0983 / Telegram:

@lightmyfire17