Pioneer the Future of Web 3– Web 3 미래의 선구자: Join us at KBW 2023
@KBW 2023 AfterParty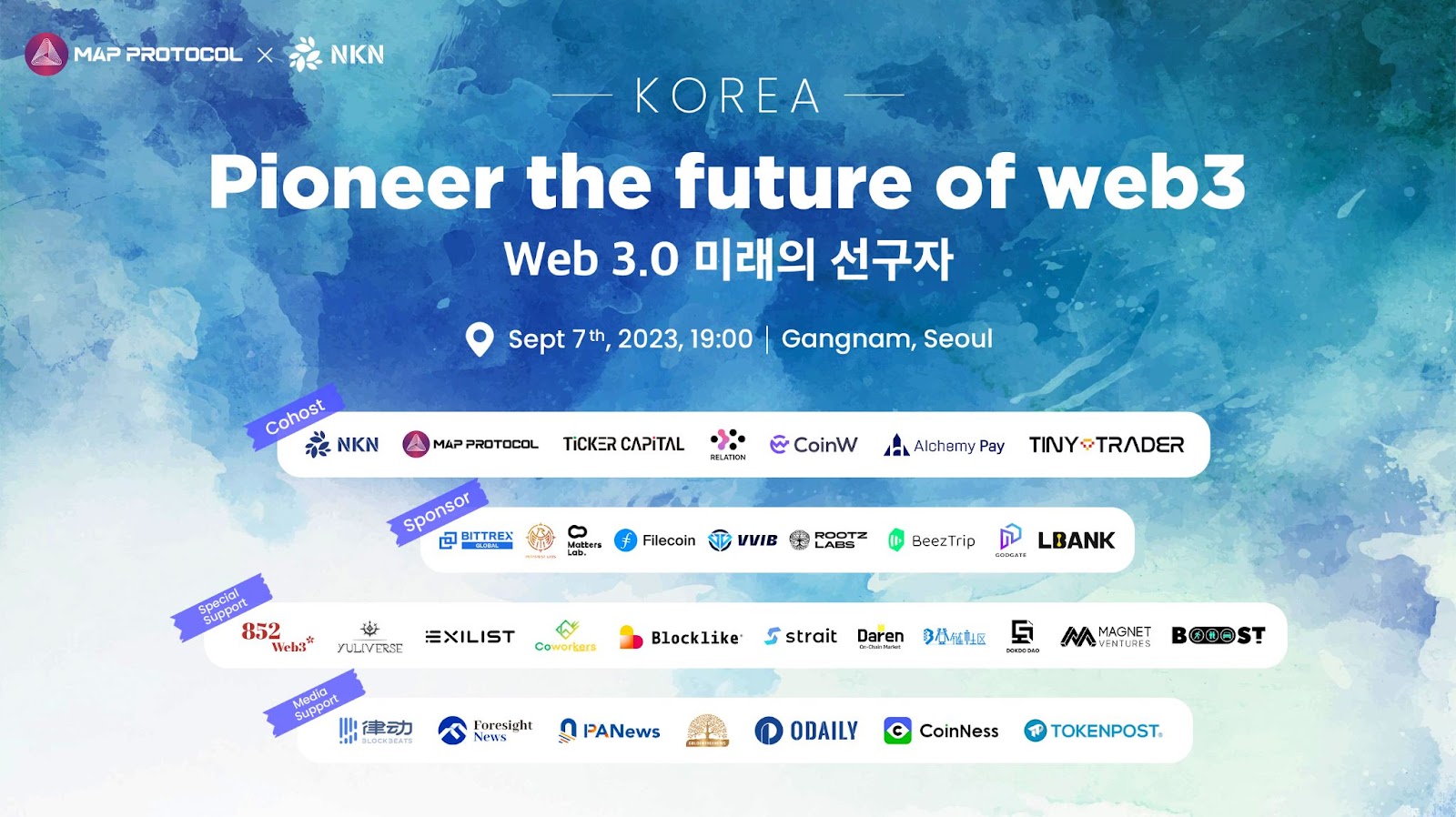 Presented by NKN and MAP Protocol in collaboration with leading tech-based ventures, investors, and networks, we are thrilled to introduce an exceptional event that will illuminate the future of Web 3 during KBW 2023.
Mark your calendars for September 7th, 2023, as the vibrant heart of Gangnam, Seoul becomes the epicenter of innovation. This eagerly anticipated event promises an unparalleled networking experience, uniting visionary leaders, trailblazing innovators, talented individuals, and forward-thinking investors from the vibrant Korean blockchain landscape and the global stage.
Step onto the stage of the Korean Blockchain Week, a pivotal gathering in the Web 3 industry, and embark on an exhilarating journey with us. We are proud to collaborate with an impressive array of partners, including Ticker Capital, Alchemy Pay, CoinW, Bittrex, Relation,​Ticker Capital, Filecoin, and an illustrious roster of 10 other exceptional pioneers. Together, we present the ultimate After Party, exclusively designed for the brilliant minds who are unwaveringly committed to shaping the upcoming era of Web 3.
Are you ready to be a part of history? Secure your spot now by signing up at https://lu.ma/KBW2023web3pioneer. The countdown has begun—get ready to be swept up in the energy of KBW 2023 on September 7th in Gangnam, Seoul (Register to unveil detailed address info).
This is an event that will redefine the future and spark inspiration for the Web 3 generation.