nMobile pre-beta testing
nMobile is a mobile app that combines the functionality of NKN wallet, D-Chat, latest NKN news, mining node monitoring, as well as IoT communication and control. The first pre-beta version of nMobile is out on Android and for community testing purpose only.
We expect to iron out the bugs, harden the security, and improve the features according to community feedback in the next few months. Therefore we highly appreciate you deposit a few NKN to experience all the cool functionalities built on top of NKN network, but please do NOT use the current pre-beta version of nMobile for large amount of NKN holdings. Thank you!
Download Link (currently only Android APK):
https://nmobile.nkn.org/downloads
Key features of nMobile include:
NKN Wallet
– supports both Mainnet and ERC-20
– create/import/export wallet
– send/receive NKN
D-Chat Mobile
– supports both group chat and private one-on-one chat (compatible with web browser plug-in based D-Chat)
– supports images, animated gif, and HTML/MarkDown
– Permissioned private groups (group admin, add/remove user, mute)
News
– Latest NKN news
IoT monitoring and control
– nStatus to monitor mining nodes via IP address
– nShell to remotely control server machines (coming soon)
– nCamera to remotely monitor and control smart webcam (coming soon)
General
– supports both English and Chinese language
Simple Guide to nMobile
On the main screen, there are four main functional tabs:
Wallet
D-Chat
News
Settings
1. Setting language
First you can choose your preferred language (currently only English and Chinese):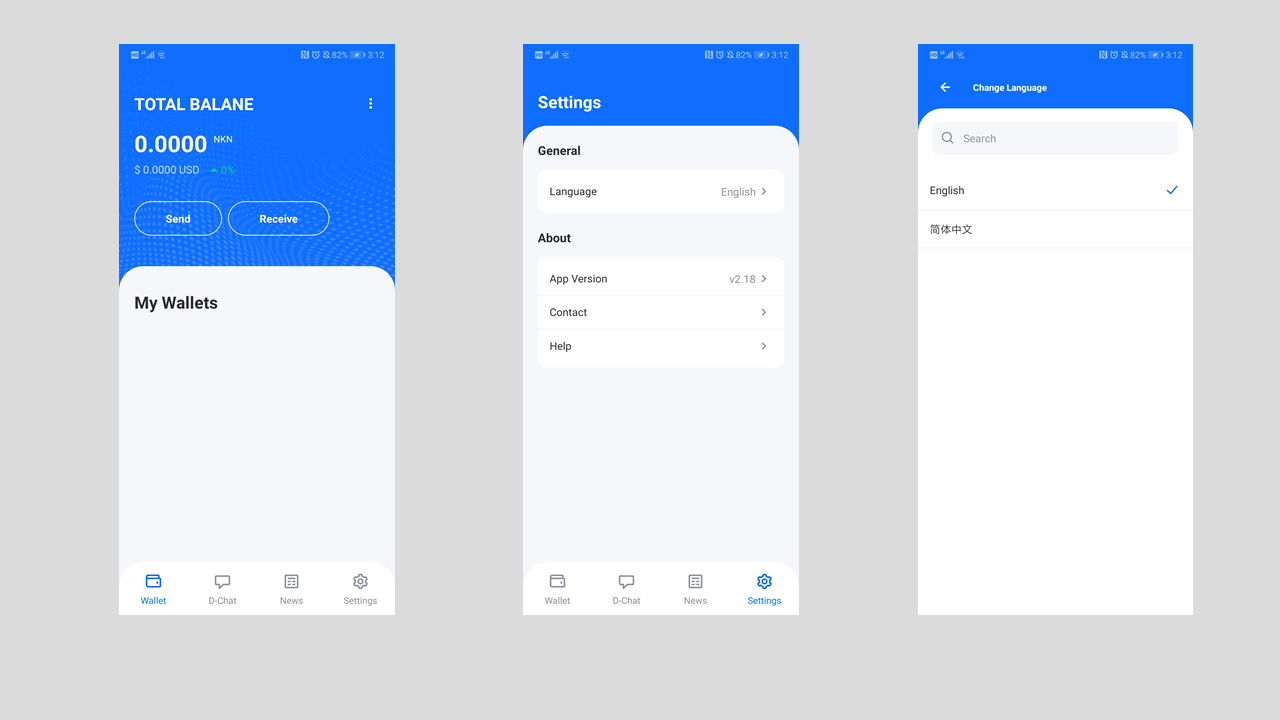 2. Wallet
2.1 Create New Wallet
You do need to have a NKN mainnet wallet to experience most of the nMobile functionality, especially D-Chat. Even if there is zero balance in your mainnet wallet, you can still use nMobile.
If it is the first time you created any wallet, the screen flow will be like this:

Once you have created wallet, the screen flow will be like this: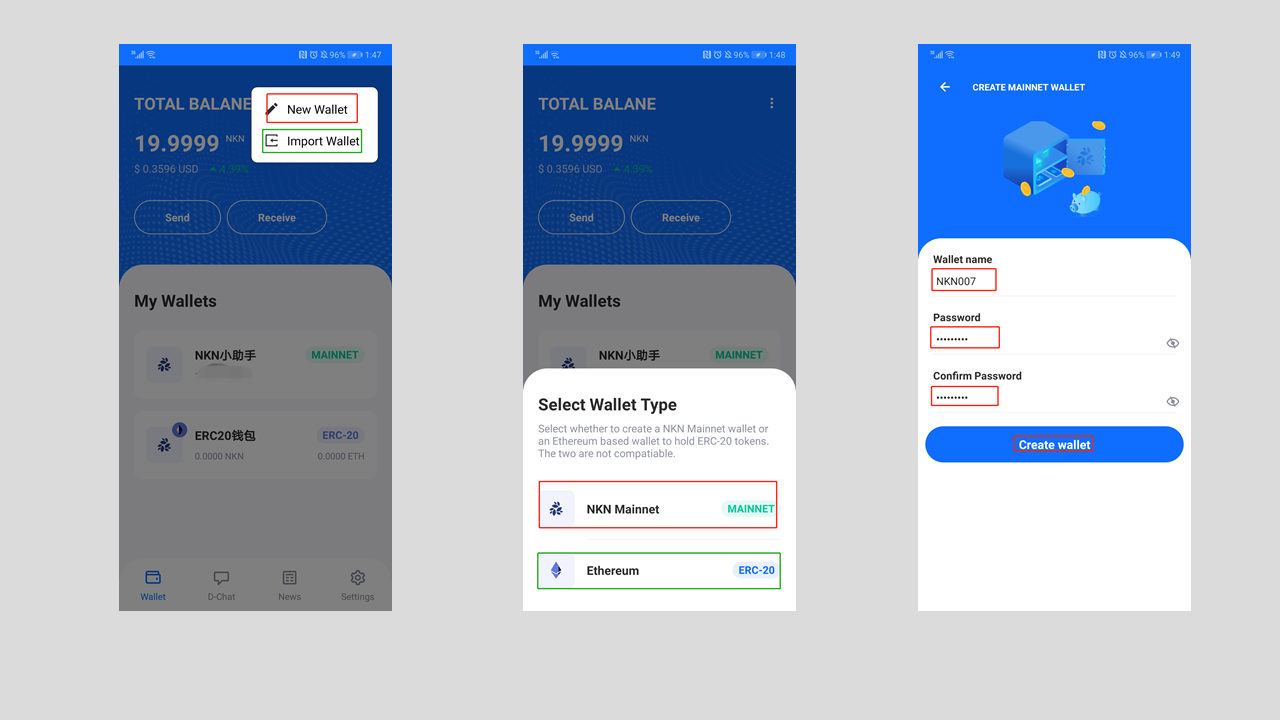 It is always critical to backup your wallet password immediately, as well as the wallet itself according to section 2.5 Wallet Management (private key, seed, and keystore).
2.2 Import Existing Wallet
You can import an existing wallet either via Keystore or Seed: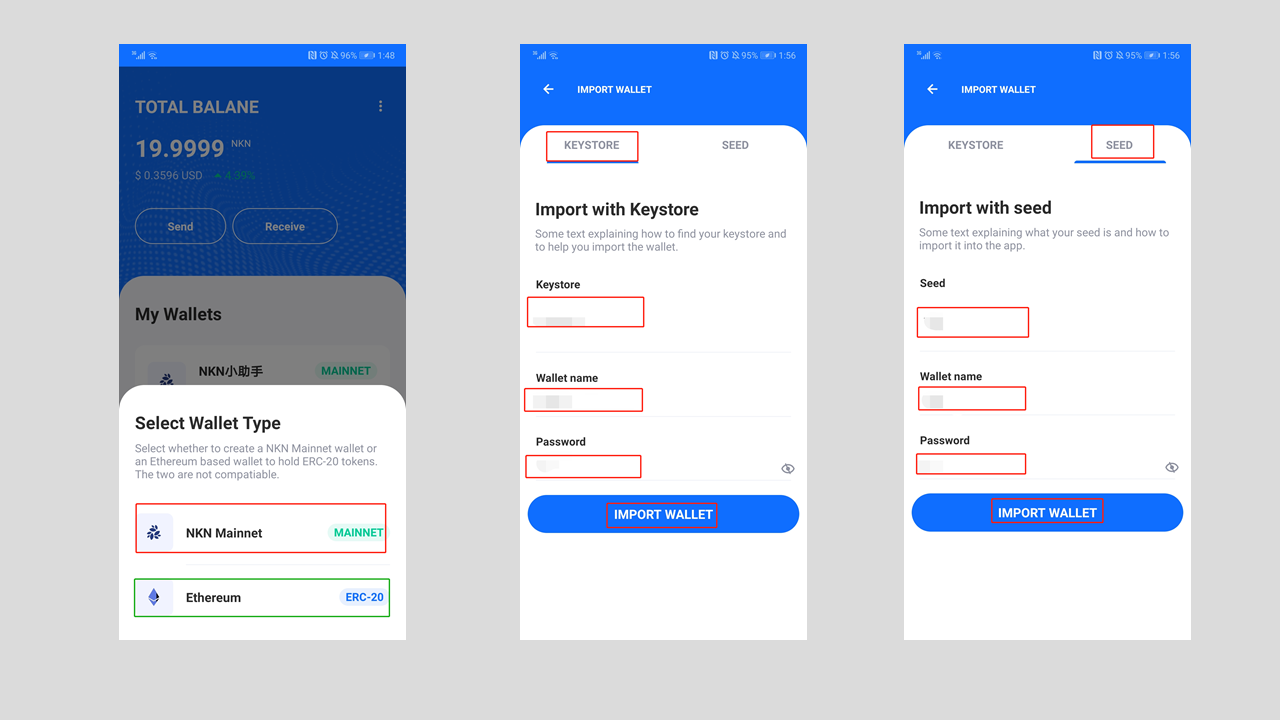 2.3 Send
To send NKN tokens to another wallet, you can either input the wallet address or use the QR Code scanner (button on the top right, middle screenshot). In addition, you need to specify the amount of NKN to be sent, as well as the transaction fee (default is 0.1 NKN).
There will be another screen to confirm the details of send transaction, before sending the NKN tokens.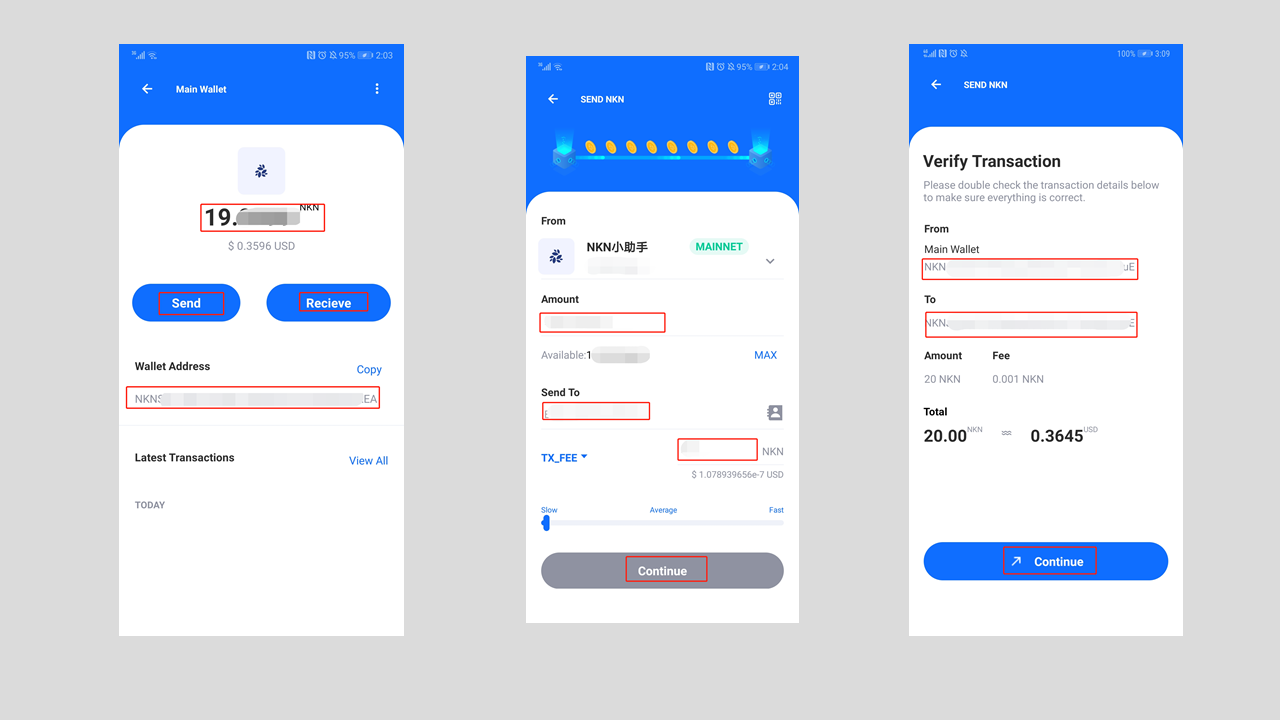 2.4 Receive
To receive, the screen will display your wallet address for copy&paste as well as the QR code for other party to scan.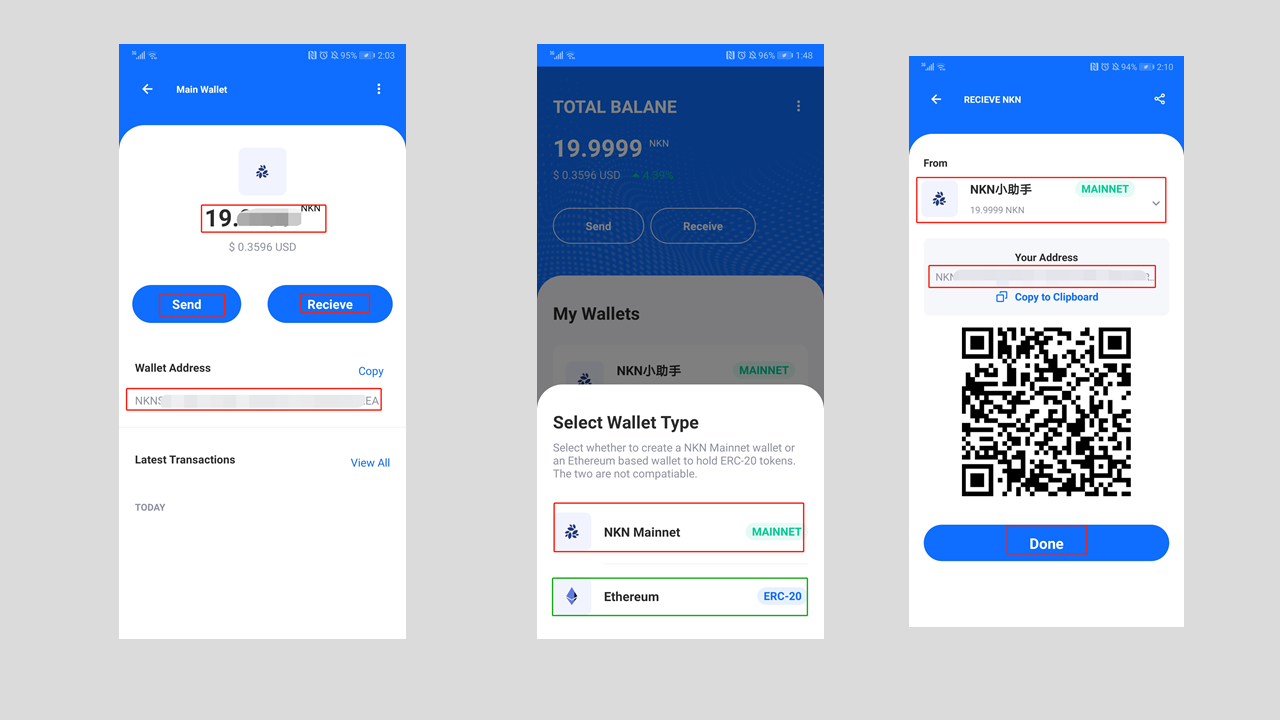 2.5 Wallet management
It is very important to backup your wallet by "Export" function. You can export private key, seed, and keystore. It is recommended to record all three and keep them in safe place, so you will always have a way to recover a wallet.
You can also delete your wallet, but please proceed with caution.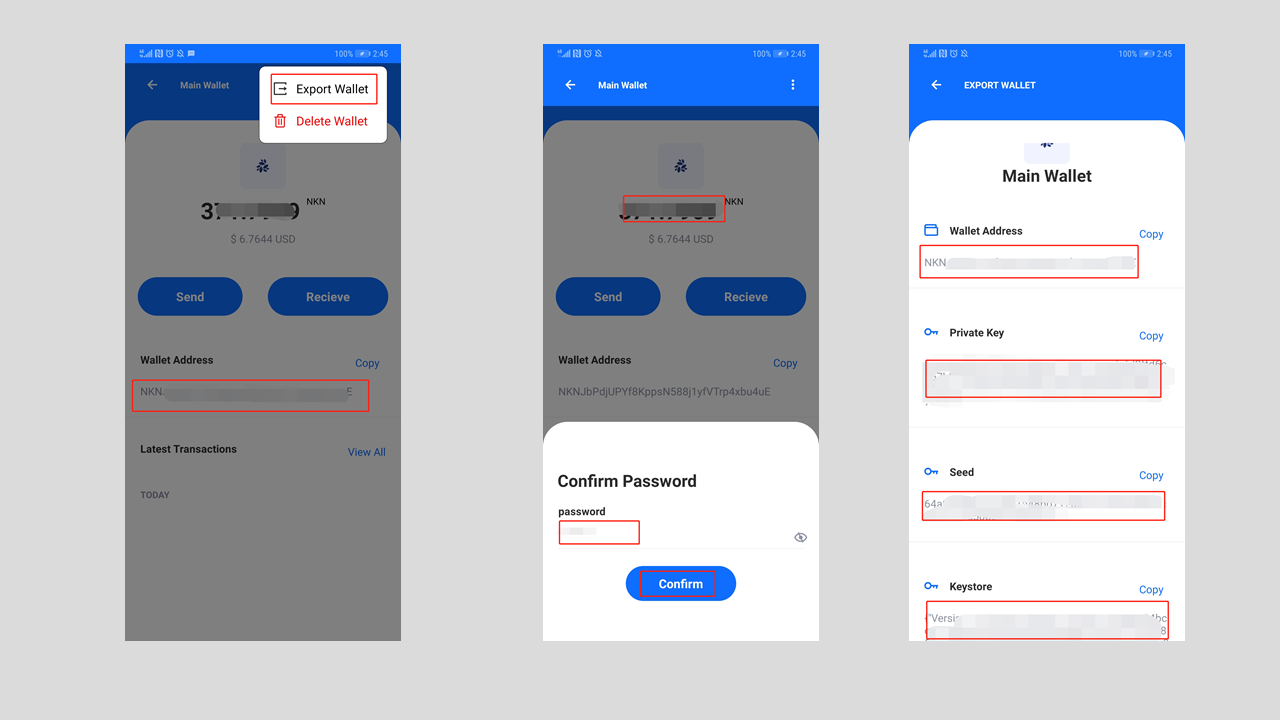 3. D-Chat
D-Chat module is where all the group chat, private one-on-one chat (Whisper), private/permissioned group chat, and IoT monitoring and controls.
3.1 Subscribing to group chat (New Group)
Use the pen icon to open a vertical menu, and choose "New Group" for either creating a new public group, or joining an existing public group (e.g. the most popular is d-chat, all lower case). Please ignore the "Private Group" switch for now. You need to pay a very small nominal subscription fee (default is 0.01 NKN) to join a public group. And the password is your wallet password.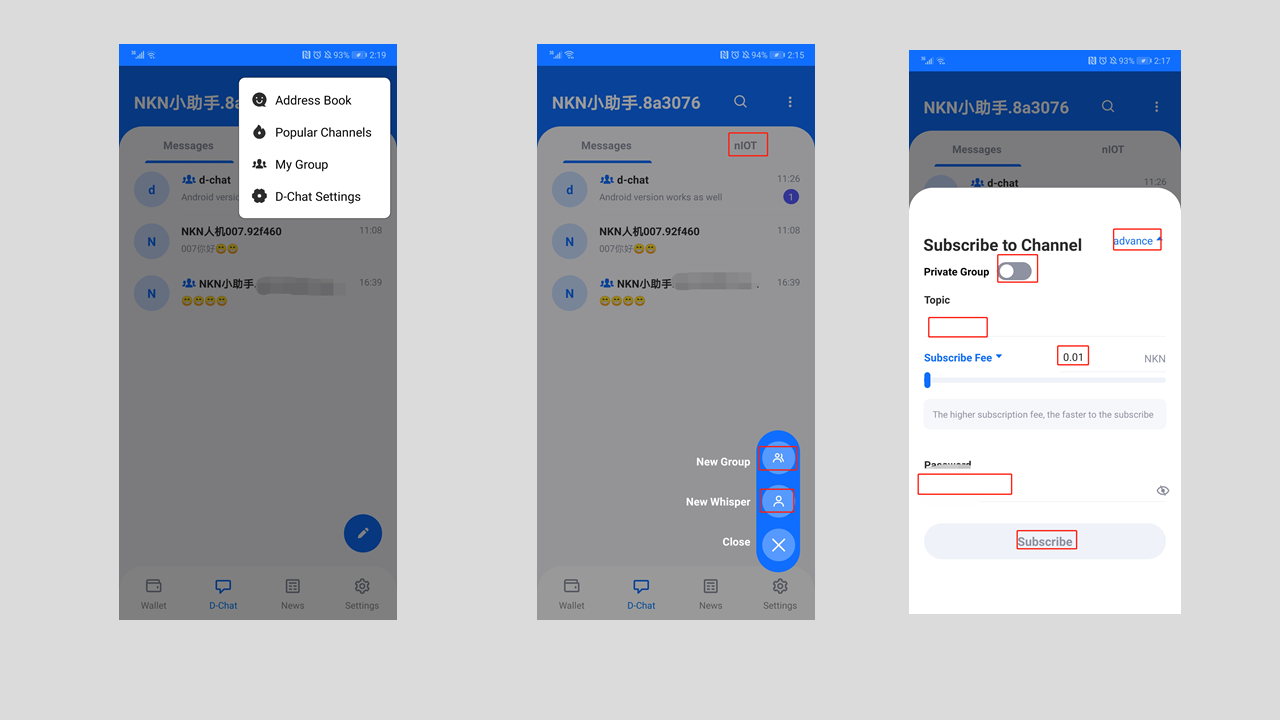 3.2 Starting a private one-on-one chat (Whisper)
There are few ways to start a private one-on-one chat (also called Whisper).
If you know the other party's full username, you can use the Pen icon to open the vertical menu, and choose "New Whisper".
Or if the other party is in a public group, you can click on his/her avatar/icon, which will brings out the user profile page (middle screenshot), and there is a "Send" button to start a private one-on-one chat.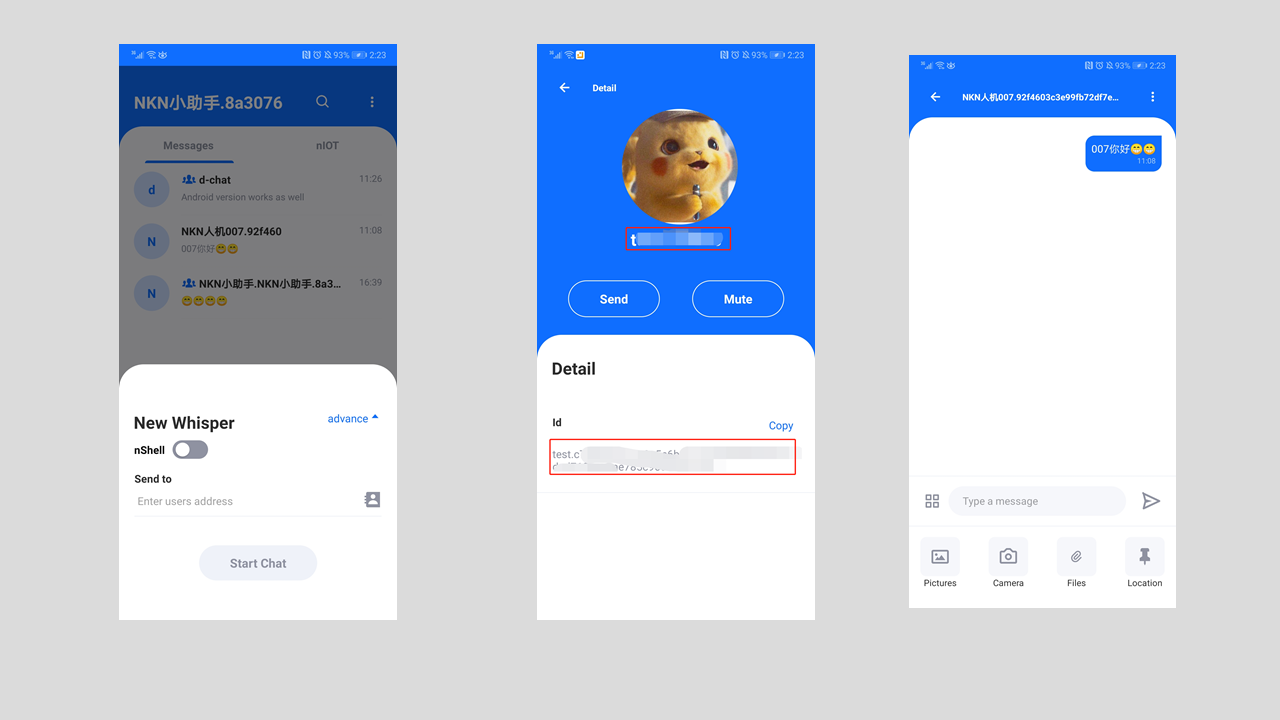 3.3 IoT communication & control
There are three use cases in the nIoT tab:
nStatus: monitoring mining node via IP address (live)
nShell: secure remote shell to control server machines (coming soon)
nCamera: monitoring and controlling remote smart webcam (coming soon)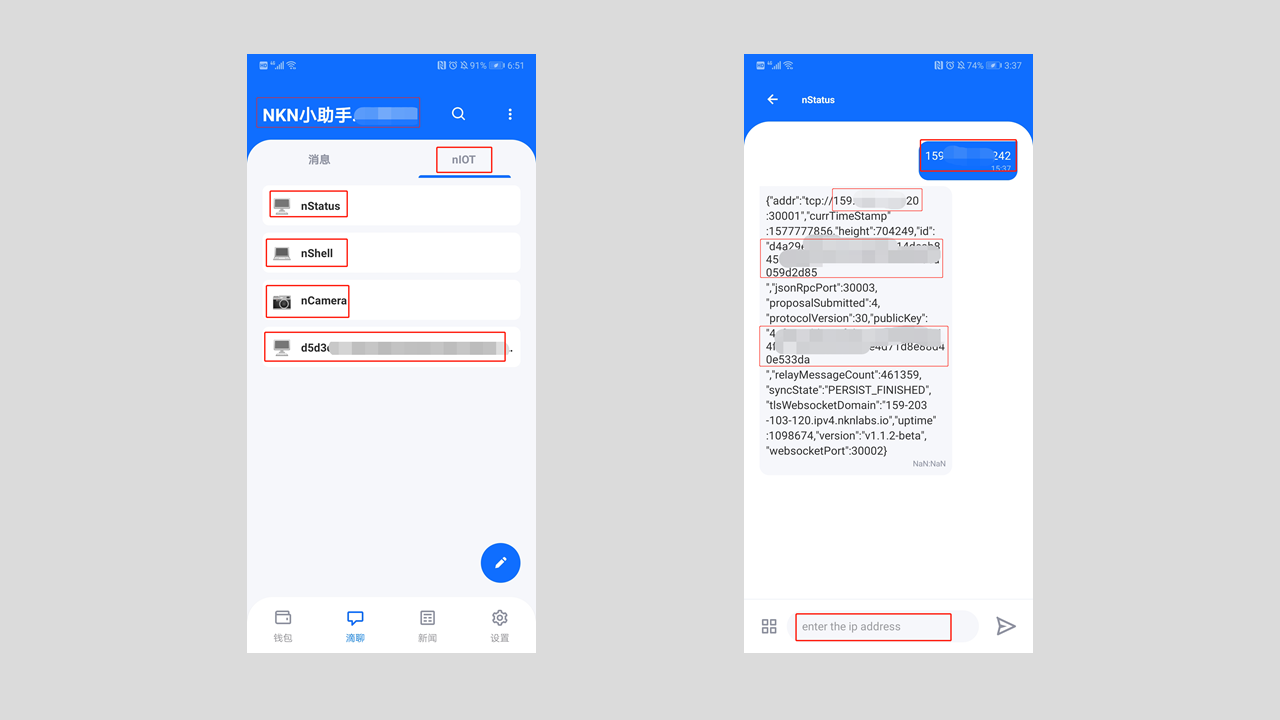 3.4 Private/Permissioned Group
This is a new & experimental feature, which is not yet available on web browser plug-in version of d-chat. To create a new private/permissioned group, you need to slide the "Private group" settings during "New Group".
If you are the creator of the private group, you can access the admin menu on the top right "…", and the last option is to "Add Member". You need to pay a small subscription fee.
The invited member need to subscribe as well, then he/she will be admitted into the private group and send/receive messages.
This functional submodule is in quite early stage, and are under active development. So stay tuned for more information.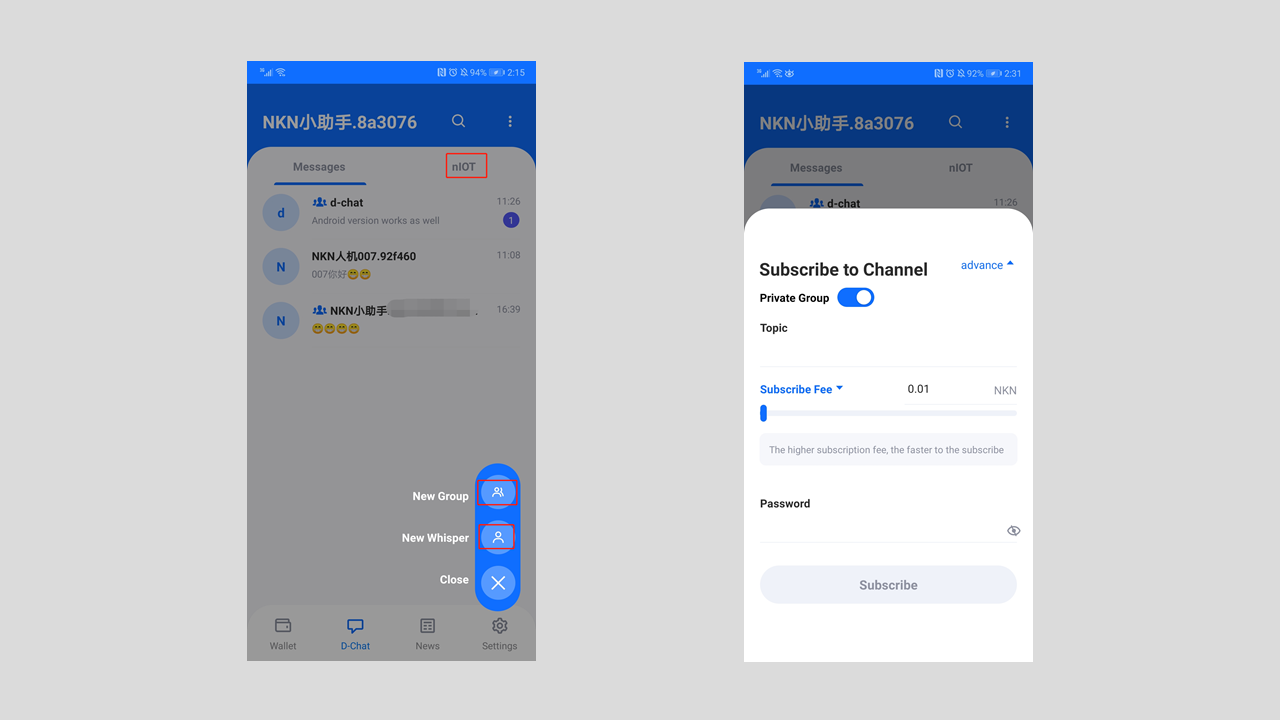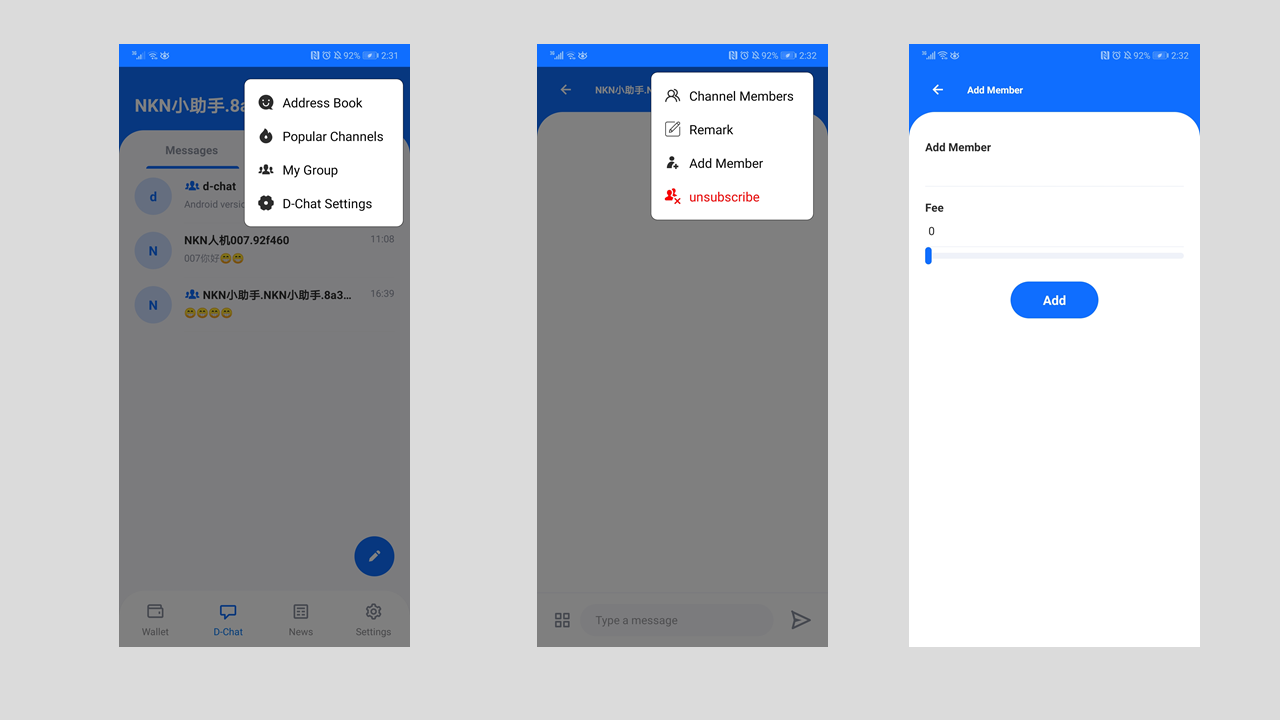 3.5 Other functionalities
There are many other smaller yet quite useful features when you play around in D-Chat module.
You can look up all the members in a public chat group. You can check the profile of individual user, to start a private one-on-one chat with him/her, or mute him/her on that public channel. You can mute an individual user within a public group, so you will not see any of his/her future messages in the future. You can copy and paste the full user id. And please explore.
4. News
Here you can find all the latest NKN news found on forum.nkn.org. The top section are the pinned messages, which you can swipe left and right. The lower section are the latest news in chronological order.
If you have not used nMobile for a few days, you might need to swipe down to refresh the page.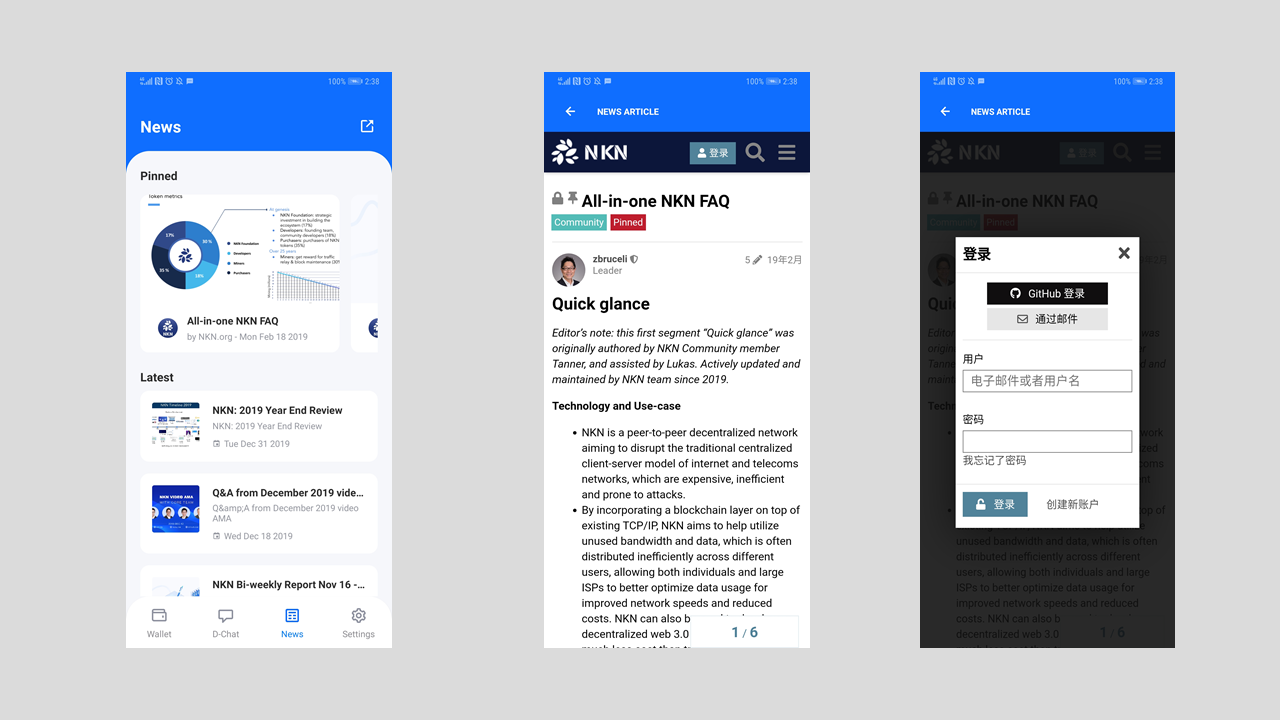 5. Settings
Here you can change the preferred Language, check the version number of your nMobile, as well as contact info for submitting bug report and feature request. The preferred way of giving us feedback is to reply to this post.